La página web oficial del anime Miss Kuroitsu del Departamento de Desarrollo de Monstruos (Kaijin Kaihatsubu no Kuroitsu-san), basado en el manga de Hiroaki Mizusaki, ha publicado un tráiler y una imagen clave del anime. El tráiler desvela el estreno en televisión previsto para el 8 de enero, el reparto principal, el personal principal y los artistas del tema de apertura.
Kuroitsu trabaja como asistente de investigación en la sección de investigación y desarrollo de habilidades sobrehumanas de Agastya, una organización secreta de villanos que libra batallas contra los héroes para salvar el mundo. Kuroitsu tiene una vida bastante ajetreada dentro de la organización: atrapada en las absurdas exigencias de sus jefes, haciendo presentaciones, implementaciones y obteniendo resultados en investigaciones sobrehumanas mientras intenta mantenerse dentro del presupuesto, ni siquiera puede encontrar tiempo para unas vacaciones.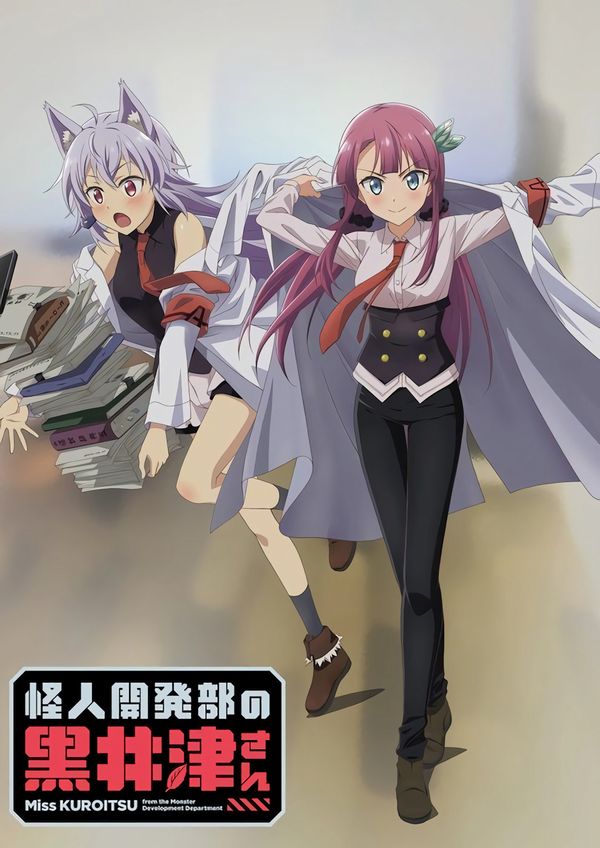 El grupo de ídolos AXXX1S interpreta el tema de apertura "Special force". Kaori Maeda interpreta al personaje principal Tōka Kuroitsu, mientras que Satomi Amano pone su voz a Wolf Bate.
Hisashi Saito (Haganai, Heaven's Lost Property) dirige el anime en el estudio Quad. Katsuhiko Takayama (Ga-Rei: Zero, Aldnoah.Zero) es el responsable de los guiones de la serie. Kazuya Morimae (director de animación de Haganai, The Testament of Sister New Devil) diseña los diseños de los personajes del anime.
Mizusaki lanzó el manga en el sitio web Comic Meteor de Flex Comic en abril de 2019.