La página web oficial de Legend of the Galactic Heroes: Die Neue These ha publicado recientemente el nuevo tráiler de la tercera temporada del anime, compuesta por 24 episodios (episodios 25-48) y basada en la famosa franquicia de ciencia ficción creada por Yoshiki Tanaka, que ya inspiró una larga serie de OVA en el siglo pasado.
La temporada se dividirá y estrenará íntegramente en tres largometrajes (como la serie anterior) con el título Legend of the Galactic Heroes: Die Neue These Gekitotsu, y se estrenará en los cines japoneses el 4 de marzo, el 1 de abril y el 13 de mayo de 2022 respectivamente.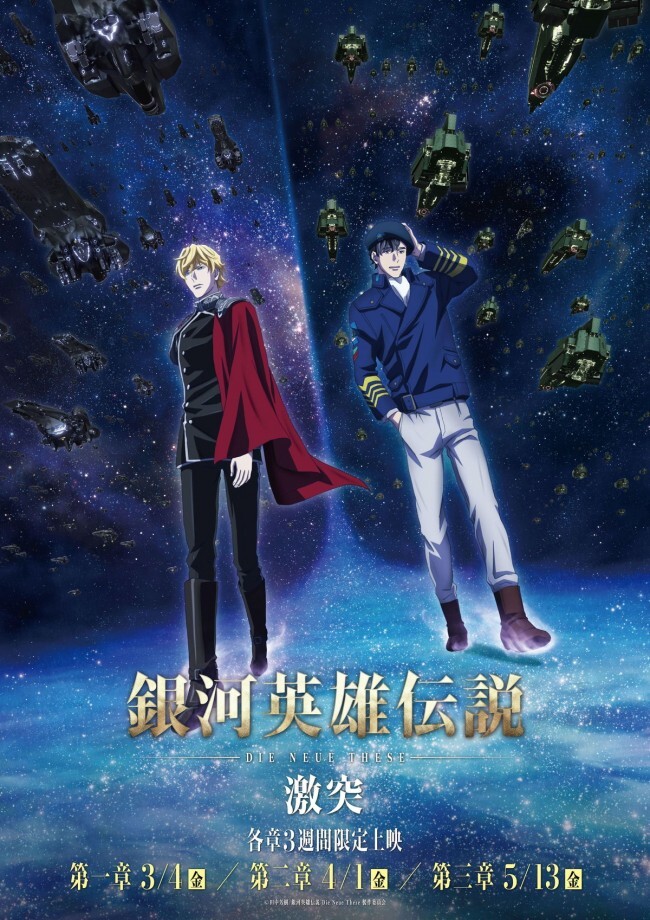 Universo, Edad Espacial del Siglo VIII. El hombre ha colonizado el espacio, y desde hace ciento cincuenta años se libra una feroz guerra entre las dos principales potencias: el Imperio Galáctico, dominado por la dinastía Goldenbaum, y la Alianza de Planetas Libres, dirigida por un gobierno democrático. El centro de los enfrentamientos entre las dos facciones es el Corredor de Iserlohn, el único punto transitable de toda la galaxia. En el conflicto entre estas dos naciones se entrecruzan las vidas de los dos protagonistas: Reinhard von Lohengramm, un joven y carismático general que forma parte de la nobleza imperial, y Yang Wenli, un comodoro de la Alianza conocido por su genio estratégico y militar.
La primera temporada, La leyenda de los héroes galácticos: Die Neue These Kaikō, se emitió en 2018. La segunda temporada, también dividida en una trilogía (ep. 13-24), Legend of the Galactic Heroes: Die Neue These – Seiran se estrenó en cambio en 2019.